Young Artists Program
Amy Sue Barston, Cello (New York, NY)
Praised as "passionate and elegant" by The New York Times, cellist Amy Sue Barston has performed as a soloist and chamber musician on stages all over the world, including Carnegie Hall, Alice Tully Hall, Ravinia, Bargemusic, Caramoor, Haan Hall (Jerusalem), The Banff Centre (Canada), The International Musicians Seminar (England), The Power House (Australia), and Chicago's Symphony Center. Amy is also a devoted teacher: in her home, at the New York School for Strings, as a guest teacher at Juilliard, and at numerous summer music festivals. Several of her students commute for lessons from hundreds of miles away, some from as far away as Alaska and Japan. Amy's upcoming schedule includes solo and chamber music performances in England, Sydney, New Zealand, Tokyo, New York, Los Angeles, Salt Lake, Wisconsin, Rochester, Denver, Chicago, and Germany. Amy also has a brand new CD out and available, which she had the honor to record with Grammy Award-winning contemporary classical music producer, Judith Sherman.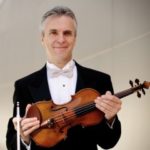 Martin Chalifour, Violin (Los Angeles, CA)
Martin Chalifour began his tenure as Principal Concertmaster of the Los Angeles Philharmonic in 1995. The recipient of various grants and awards in his native Canada, he graduated with honors from the Montreal Conservatory at the age of 18 and then moved to Philadelphia to pursue studies at the Curtis Institute of Music.
Chalifour received a Certificate of Honor at the Tchaikovsky Competition in Moscow, and is also a laureate of the Montreal International Competition. Apart from his LA Phil duties he maintains an active solo career, playing a diverse repertoire of more than 60 concertos. Chalifour has appeared as soloist with conductors Pierre Boulez, Gustavo Dudamel, Charles Dutoit, Christoph Eschenbach, Sir Neville Marriner, and Esa-Pekka Salonen. Outside the U.S., he has played solos with the Auckland Philharmonia, the Montreal Symphony, the Hong Kong Philharmonic, the National Orchestra of Taiwan, and the Malaysian Philharmonic, among others.
Chalifour began his orchestral career with the late Robert Shaw and the Atlanta Symphony, playing as Associate Concertmaster for six years. Subsequently he occupied the same position for five years in the Cleveland Orchestra, where he also served as Acting Concertmaster under Christoph von Dohnányi. While in Cleveland, Chalifour taught at the Cleveland Institute of Music and was a founding member of the Cleveland Orchestra Piano Trio.
Chalifour is a frequent guest at several summer music festivals, including the Sarasota Festival, the Mainly Mozart Festival, and the Reno Chamber Music Festival. In December 2014 at the same Nevada festival, Chalifour was featured with his friend and colleague Noah Bendix-Balgley in a special program entitled "The Concertmasters of the Berlin Phil and the LA Phil." Maintaining close ties with his native country, he has returned there often to teach and perform as soloist with various Canadian orchestras, most recently with the Vancouver Symphony and Bramwell Tovey. He will be featured in the Tchaikovsky concerto in the opening week of the Hamilton Symphony 2017/2018 season.
Martin Chalifour has recorded solo and chamber music for the Telarc, Northstar, and Yarlung labels. He teaches at the University of Southern California and Caltech.
---
Violin and Viola
Reagan Brasch (Farmington, CT)
Reagan Brasch grew up in the Suzuki method studying with Paula Woyton in Texas. She graduated with a bachelors of music in violin performance and received her masters in music with an emphasis in Suzuki Pedagogy from the University of Denver. After teaching with Denver Talent Education for five years with James Maurer, she moved to Chicago to teach at the Music Institute of Chicago (MIC) under the direction of Gilda Barston. She has had additional Suzuki training from Linda Fiore, Joanne Bath, Ann Smelser, Michele George, Doris Preucil, and Pat D'Ercole. Mrs. Brasch gives both private and group instruction in Suzuki. She also is the program director of the early childhood Musikgarten classes to toddlers and preschoolers, as well as Events Coordinator for MIC's Suzuki Program. She was awarded Outstanding Teacher by the Alliance for Early Childhood and the Certificate of Achievement Award from the SAA. Mrs. Brasch has taught extensively at Suzuki institutes and workshops around the country.
Allen Lieb (New York, NY)
Allen Lieb received his M.M. in Performance from SIU/Edwardsville, studying Suzuki pedagogy with John Kendall. He holds a Teacher Training Certificate from the Talent Education Research Institute in Japan following several years' instruction with Dr. Shinichi Suzuki. A registered Teacher-Trainer with the Suzuki Association of the Americas since 1981, Allen has taught at institutes, workshops and conferences across the US, Canada, Central America, Europe, Asia, Australia and New Zealand. In July 2017, Allen will become CEO of the International Suzuki Association. He is Chair of the ISA and SAA Violin Committees, a member of the SAA Heritage Committee and a frequent contributor to the SAA Journal. Currently residing in New York City, Allen is Head of the Violin Department and Instructor for the Teacher-Training Seminar at The School for Strings. He is also a violin instructor at The Diller-Quaile School of Music where he was a recipient of the 2012 Clifford/Levy Creativity Grant. For 13 years Allen served as Curriculum Coordinator for the Newark Early Strings Program, a Suzuki-based violin program jointly sponsored by the Newark Public Schools and the New Jersey Symphony Orchestra, for which he was recognized with the 2008 Samuel Antek Award for Music Education.
---
Erin Rushforth, Director (San Antonio, TX)
Erin Rushforth is a registered Suzuki violin teacher with an eye for detail and a penchant for planning. She grew up as a Suzuki kid in Rochester, MN, and studied in high school with Mary West of the MacPhail Center for Music. Erin earned her MA in French studies from Brigham Young University. She has studied Suzuki pedagogy with Liz Arbus, Linda Fiore, Cathy Lee, and Pat d'Ercole. When she isn't at JSSI, you may find her supervising music practice with her children, running, researching airfares to France, reading, or otherwise avoiding the laundry.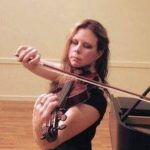 Kristina Turner, Assistant Director (Bellingham, WA)
Kristina Turner is a registered Suzuki violin and viola teacher as well as a Suzuki mom. She studied violin at Western Washington University with Walter Schwede and has been a member of the Whatcom Symphony Orchestra for over a decade. Kris serves on the board of the Suzuki Association of Washington State and has been participating at JSSI since 2010. One of her lesser-known talents is competing with horses and training dogs in agility and obedience. In her downtime, you can find Kris spending time with her family and her dog Solo.
Save
Save
Save
Save
Save
Save
Save
Save
Save